Renk Kaplı Alüminyum Çatı Bobin Rulo
Renk Kaplı Alüminyum Çatı Bobin Rulo
JINHU

Shandong Eyaleti, Çin

15-20 gün

15000 ton / ay
Color Coated Aluminum Roofing Coil
Color coated aluminium coil is coated from aluminium coil, including FEVE (fluoroethylene vinyl ether), PVDF(fluorine-carbon), HDPE(high density polyethylene), PE(polyester) color coated aluminium coil.

Color coated aluminium coil is widely used in Aluminium Composite Panel, Roofing System, Aluminium Honeycomb Panel, Advertising Sign Panel, Gutter System, Home Appliances Board, Ceiling System and other areas.

Shandong Jinhu Aluminium Group is the leading manufacturer of metal building materials for over 16 years in China, specializing in Color Coated Aluminium Coil&Foil, Aluminium Composite Panel (ACP), Fireproof A2 Core Coil, Fireproof A2 Metal Composite Panel, Stone Coated Metal Roof Tile, and so on. Currently, we have 4 factories, Linyi Jinhu Color Coating Aluminium Industry Co.,Ltd, Shandong Golden Sunshine Building Materials Co.,Ltd, Shandong Baisheng Metal Technology Co., Ltd, Shandong Guangxiang Building Material Co., Ltd, more than 10 sales branches, 16 color coating lines, 7 ACP lines, 3 FR A2 ACP lines, 3 polymer membrane lines, 1 protective film line, 8 stone coated metal roof tile lines.
Color Coated Aluminum Roofing Coil Roll 
Color coated aluminum coil, as its name suggests, is the product after coloring the surface coating of aluminum plate or aluminum roll, mainly divided into PVDF(fluorine-carbon) color coated aluminum coil, PE(polyester) color coated aluminum coil.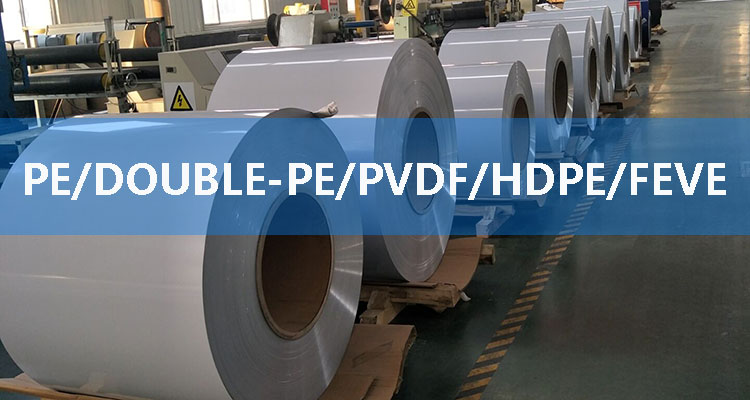 Color coated aluminum coil is widely used in the roofing and cladding system, ceiling system, curtain wall plate, shutter, gutter, composite panel, honeycomb panel,advertising sign and embossed aluminum coil.
Applicaiton Area
For Aluminium Composite Panel
For Aluminium Honeycomb Panel
For Home Appliances Board
Color Coated Aluminum Roofing Coil Roll
Coated Aluminium Specification
| | |
| --- | --- |
| Item | Description |
| Alloy | AA1100,AA3003,etc |
| Thickness | 0.8mm-1.5mm,also can customized up to you(included the coating pe film,tolerance:±0.02mm) |
| Surface treatment | PVDF/PE coating(PVDF 26-28um/PE16-18um) |
| Color | RAL/PANTONG or as JINHU color chart or customized |
Color Chart of Color Coated Aluminum Roofing Coil Roll
The color can be customized according to your requirements.
Sample Size:about 30cmL*20cmW
Remark your requirement for samples,for example,color,aluminium thickness,coating,etc
We could offer the sample for free charge but do not pay the cost of freight.
Manufacturing Technique
First, The Raw Material Coil Input, Is The Uncoiler Continuous Rewinding To Ensure Continuous Transmission Of The Coil With A Stable Inputting To Production Line. Second, Surface Cleaning And Chemical Treatment, Is To Clean And Chemical Pretreatment The Top And Bottom Faces Of The Aluminum Coil In Order To Ensure That The Paint Can Be Firmly Attached The Coil. The Third Is Painting. Each Production Line Should Have At Least Two Roller Coating Machine To Ensure Prime And Top Coats Can Be Two Layers Coated. Forth Is The Paint Layer Curing That Is The Roll Coil Which Is Finished Painted Just Now Should Be Completed Curing Before Touch The Next Roller To Avoid Mutual Adhesion And Destruction. Generally, It Has At Least Two Curing Boxes In A Production Line. Fifth, Refers To Finished Products Output. It Should Ensure The Production Line's Speed And Finished Coil Transfer Synchronization.
Test yapmak
POLYESTER

madde
Teknik gereksinimler
madde
Teknik gereksinimler
Kaplama filmi kalınlığı
≥18
Esneklik
≤2T
Parlaklık sapması
Parlaklık <70. Hata sınırı ≤% 10
Parlak≥70. Hata sınırı ≤% 5
Kaynar su direnci
2H Renk değişimi yok
Sertlik pf kalem
≥2H
Renk farkı
△ E≤2.0
yapışma
≥1Lever
MEK
Times150 Kez
Ürün paketleme